30th March 2010.
The
Hemingway
persona/myth continues to fascinate as each succeeding generation discovers the man and his work anew. One of the preoccupations of youth has always been the conspicuous consumption of alcohol and in picking
Hemingway
as a role model, they're never in any danger of being disappointed on that score. That he carried on his youthful heavy drinking all through his adult life during which he drove ambulances on the Italian front in WW1, skied in the Alps, shot big game in Africa, fished the Gulf Stream, followed bullfights, served as a war correspondent during the Spanish Civil War and WWII, became a serial husband and, to pay the bills, worked as a journalist and, in his novels, produced some of the greatest writing of the 20th century - only serves to lend credence to, and perhaps legitimise, his legendary love affair with the one mistress he stayed faithful to all his life - alcohol.
In the course of a colourful life lived to the full, he left an indelible imprint in several
locations scattered around the fringes of the western world. It could be argued that he rode the first wave of global tourism. There must be as many blue plaques in bars around the world indicating that
Ernest Hemingway
ate or drank here (usually the latter) as there are inns in the UK claiming that Mary, Queen of Scots, slept there. I must admit I envy him for having been able to experience Italy, France, Spain, East Africa, Key West and Cuba before tourism marked them irreparably. Yes, he's a flawed figure and one who's easy to mock or parody - but there's no denying the fact that he wrote much beautiful prose and despite living a hunting, shooting, fishing, drinking, womanising life with a tendency to self-aggrandisement, he remains a fascinatingly charismatic figure. Paris continues to attract young Americans who go there hoping to write the great American novel. Hemingway put down markers that seem impossibly out of reach.
The Pays Basque and Spain frequently figured in EH's body of work as well as in his personal life. He left America in the early 1920s to take up residence in Paris, from where he travelled to
Pamplona
via the Pays Basque for the now-legendary running of the bulls during the feast of
San Fermin
. This must have been a fairly obscure event in a dusty corner of Europe at the time when Hemingway visited it.
Nowadays, the running of the bulls has morphed into an international rite of passage for thousands of young men from many nations and also for more than a few older ones who are seeking to re-capture their lost youth. For him though, this was a life-changing experience and he immortalised it in his first best-selling novel
The Sun Also Rises.
It describes how the relationships within a group of expat Americans and Brits change during the alcohol-fuelled week of the San Fermin festival against a background of bull fighting. Jake is the narrator and clearly speaks with Hemingway's voice. After a memorable week, Jake finishes up in Madrid having lunch with Lady Brett
-
where Hemingway has Jake polishing off
5
bottles of Rioja (as you do!).
Hemingway arrived in Bayonne by train from Paris to catch his first sight of the Pays Basque. Arriving in Bayonne on a summer's night after a long hot train journey from Paris, I would think his first priority after crossing the bridge over the Adour to find a hotel in the old centre of Bayonne would have been to find the nearest bar - of which there is no shortage - for a cold beer or two. Having grown up in the leafy suburbs of staid Oak Park, a wealthy suburb of Chicago, he must have been excited at the thought of what lay ahead.
He travelled on through the Basque country to Pamplona but always returned to the coast - San Sebastian, Hendaye, St Jean de Luz or Biarritz. Much later in life (in 1959) he was commissioned to write one last time about a summer of bullfighting in Spain. He recruited a young American woman as his secretary and she wrote that:
"On the trips we took to France Hemingway carried the manuscript of the novel with him. In late August we went to Dax to see Antonio fight. We stayed at the Chantaco Hotel in St. Jean de Luz and ate at the Bar Basque."
The
Hotel Chantaco
(just outside St Jean de Luz) remains the same fine & grand establishment that it surely was 50 years ago: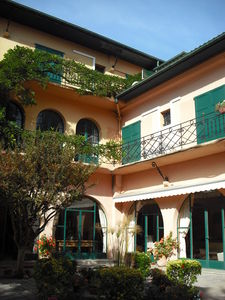 Hotel de Chantaco
I suspect that EH would have been far more at home in the unpretentious
Bar Basque
in the Boulevard Thiers, Saint-Jean-de Luz. Well situated in a leafy boulevard, the
Bar Basque
is a
'clean, well-lighted place'
and somewhere that's very pleasant indeed to sit with a late drink (or 3) under the
platanes
on a summer's evening and watch the world go by.
Bar Basque
This week's freebie - Papa's grand-daughter Mariel playing opposite Woody Allen in the great closing scene of
"Manhattan",
with Gershwin pulling it all together. I like the moment when the penny drops for Woody at 02:23.. (we've all been there..)
Finally, still on the Hemingway theme of this week's post, here's Paolo Conte with his "Hemingway":
I cut and pasted the Italian lyrics into Babelfish and this popped out the other end! I'm none the wiser..
Beyond the dolcezze dell Harrys Bar
And the tendernesses of Zanzibar wax questra road
Beyond the illusions of Timbuctoo
And the long legs of Babal wax this road
Quetsa road zitta that it flies via like a butterfly,
Nostalgia, nostalgia to the taste of curaçao
Perhaps a day better me spiegher
Et alors, Monsieur Hemingway, to it goes?
Et alors, Monsieur Hemingway, to it goes mieux?

Well I hope that's answered any questions you may have had!

Wish I'd said this: "Always carry a large flagon of whisky in case of snakebite and furthermore always carry a small snake."
One for the road:
"Don't you drink? I notice you speak slightingly of the bottle. I have drunk since I was fifteen and few things have given me more pleasure. When you work hard all day with your head and know you must work again the next day what else can change your ideas and make them run on a different plane like whisky? When you are cold and wet what else can warm you?"
Ernest Hemingway