Friday, 14th March
. Those of you who know Saint-Jean-de-Luz will be saddened to read of a
tragic fire
on the top floor of the
Grand Hôtel
in the early hours of Monday morning that took the life of a 76 year old lady and caused much damage.
Saturday, 22nd March
. The planning for this year's Comète Commemoration in the Pays Basque is in full swing. Last Sunday, a group of us headed up into the hills past Ixtassou to try out
Lezetako Borda
, a restaurant that's buried deep in the folds of the Pyrenees on the Spanish side of the border (
this
is the exact spot) - it's not a restaurant that you would ever blunder across by accident! The road there quickly turned into a single track with unfenced vertiginous drops for the unwary.
I got ab-so-lute-ly soaked this morning out on the river.. When I checked the weather at 6.30am it was raining and I thought - that's it, no rowing for me this morning.. but later on at 8.15 it had cleared up so I hot-foot it down to the river.


We set off in a IV and all was going well.. except that I could see some substantial-looking low clouds over the sea out to the west that looked disturbingly like a
line squall
. The rain held off until we were about 8km up the river from the dry clubhouse - when suddenly the skies opened. There seems to be a local phenomenon here called "Car Wash Rain". Elsewhere, rain falls gently from clouds under the influence of gravity.. Here it's a different story. What we got this morning was the full
Kärcher pressure wash
experience.. It lasted about 20 mins and at the end of it all I needed to complete the programme was a squirt of shampoo and then for one of those big flailing rotating rollers to go over me - front and back - followed by a dryer. I was totally sodden -
nothing
was dry. Still, as my old rowing master at school used to say - it's only water..
Monday, 24th March. Strange But True Dept: A Tasmanian Single Malt whisky - Sullivan's Cove's French Oak Cask - has been voted

the world's best single malt whisky at the World Whiskies Award held on Thursday night in London. According to the tasting notes, if you like red wine gums, jelly babies, fresh cut grass, anise, cinnamon, white pepper, fruitcake, coconut and melted dark chocolate - then this is for you..
If, however, like me, you're quirky enough to prefer your single malt whisky to taste like single malt whisky, then it doesn't get much better that Doctor Glenmorangie's Famous Tincture! But watch out - in a classic demonstration of the old adage - "If it ain't broke - fix it until it is.." - in 2004, the then shareholders misguidedly and stupidly sold the company to the French luxury goods company LVMH for around £300m. I wrote about this tragedy here. Sadly, I was right. Read the next few sentences and weep..
Following the change of ownership, the Tayburn design agency was appointed to redesign Glenmorangie as part of a brand overhaul. This included the introduction of a new, more curvaceous bottle,(wow!) and the renaming of some of its variants. Its Wood Finish whiskies were given new names such as The Quinta Ruban, Nectar d'Or and LaSanta, which were also advertised as non chill-filtered for the first time.
How about Glenmorangie with Pro-Calcium Plus?! Whatever that is..
Ill-advised corporate vandals - aka LVMH -
are now aging the original perfect Scottish single malt whisky in
Sauternes
casks.. What's wrong with marshmallow flavour while you're at it? Or Barbeque..? The world's gone mad..
I was offered a dram of "Whisky Alsacien" (ie, from the Alsace region of France) a month or two ago. Thought it was a bit light on jelly babies, fruitcake, melted dark chocolate etc etc..☺
My old neighbour in Scotland used to tell me that "
there's nae sich thing as a bad whusky
".. I wonder what he'd have made of this one?☺
Tuesday, 25th March
. More rain today!
Saturday, 29th March
. Is your heart a bit slow getting going this morning? Listen to this clip - it's guaranteed to set your feet tapping.. and everything else should soon join in..
And I know I've posted the next clip before, but Sidney Bechet's "
Si Tu Vois Ma Mère
" is worthy of a repeat - shown here as it was used to accompany
Woody Allen
's paean to what many think of as the most beautiful city in the world.. Full screen and the highest resolution you can manage - oh yes, and volume to the max!
Sunday, 6th April
. As Europe moves slowly towards greater homogenisation, it's always a pleasure have a glimpse of a unique culture that appears to be flourishing still. Here's what happens when
15,000 Latvians
join together in song:
For those of you who are straining to remember exactly where Latvia is,
strain no more
..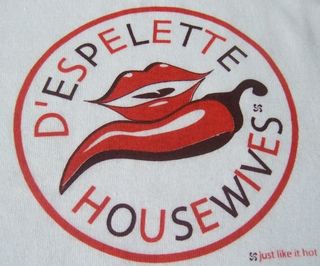 I came across a graphic this morning that made me pause - and then suddenly the penny (or should I say the
centime
) dropped..! The Basque village of Espelette is famous in these parts for its dried red peppers so in the above image they've linked a pepper with a pair of luscious lips - plus -
d'Espelette
and
desperate
sound similar to the French ear.. and the TV show "Desperate Housewives" is all the rage in France apparently (so the
coiffeuse
down the road tells me!). Anyway, now you have it all. This is the kind of punning word play that the French love.. There's a
site
if you wish to see more.
I've mentioned these passages in Paris before here but I think you're long overdue a reminder! If you're in Paris and you've not visited one of these before -
go
and have a look!
If you've never driven a
2CV
before, it's high time you treated yourself to the experience. Buy / borrow / rent / steal one and wobble out onto the highway.. What are you waiting for? It really is a
driving experience like no other
.. It's easy to laugh at these frail-looking contraptions as Gallic eccentricities but - believe it or not - they
are
supremely comfortable and they come into their own on "country" roads. The car abounds with practical features.. let's see how many I can remember - there was a ventilation flap that ran the width of the windscreen that allowed outside air in (via a mesh); the seats (cloth supported by rubber bungees from a tubular metal frame) could be removed in seconds if you felt an alfresco picnic moment coming on; there was a full length sun roof that could be easily unrolled; I seem to remember that the tilt of the headlights could be adjusted while driving; it had a centrifugal clutch; quirky yet practical flap-up windows; a fuel gauge that was nothing more than a long dipstick.. I'm sure there were more.. Oh yes, the car stuck to the road like
(insert word of choice here)
to a blanket
.
It had more roadholding than performance and it could corner at incredible lean angles in perfect safety - the passengers would be more likely to screech before the tyres did! All this and 60-70 miles per gallon..(4.7 - 4.0 litres / 100km)
Its minimalism is supported by some very clever engineering.. particularly in its long travel suspension. I once owned an early one with the 425cc engine and I think I had more fun with that car than any other before or since. And when was the last time you heard of a car being 'fun' to drive?
What was I doing when I found this clip from "Casablanca" - who knows? - but Paris is a special place for Madame and I and so I have to find a place for it..
I think it's time we had a long weekend up there - visit a few of the old haunts. It's a while since we've been there.
6th June 2014
. The commemoration ceremonies being held all over the world today to mark the 70th anniversary of D Day (or J Jour as it's known here) remind me of a strange but true story. Ten years ago, I shared an office with someone who had an MSc in chemical engineering but, despite that, she was often (as in always) the last one to spot any kind of cultural or current affairs reference that happened any time before two weeks ago last Wednesday.
It was the week of the 60th anniversary of D Day and it had been all over the media and so, as was my wont, I asked her when D Day was.. Her first reaction, "Is this another one of your catch questions..?
"Nope", I replied. "It's as straight-forward as they come."
She looked thoughtful for a moment before answering, "The 18th century?"
I said "No - but I'll give you a clue.. It was the 60th anniversary this week.."
"Ah," she said triumphantly, "1920!" (and no, sadly, she wasn't joking..)
When I revealed the answer to her, her response was classic - "Well, how do you expect me to know that? It was before I was born.."
Collapse of stout party..