Friday, 2nd January 201
5
. A lot of something or other (most of it around 13.5° BV) has flowed
under the bridge since I was last here.
The Arcachon basin
We've just returned from a very enjoyable few days away over the New Year visiting family at
Andernos-les-Bains
on the north-eastern shore of the Arcachon basin (
right
). We've been there before but I don't think we've ever seen it looking so beautiful and as it was out of season, the traffic was still 'fluid' and driving through the coastal pines was still a pleasure - with very few camper vans (or 'camping cars' as they're known here) or caravans out and about. The basin is famous for its oyster beds and its shores are well-supplied with oyster shacks.
On New Year's day, we had lunch at
La Parqueuse
at Andernos-les-Bains. This was a simply furnished restaurant in the
Port Ostréicole
(
above
) that cut out
all
the middlemen.. it specialised in fish and seafood direct from the boat to the table. We all decided on the turbot (
right
) as a main course after oysters or fish soup. I'd only once eaten turbot before - and in any case, never a whole one - and, due to its price elsewhere, I doubt that I ever will again. We were all reduced to companionable silence as we enjoyed it with a white
Graves
.. A wonderful fish. (for the curious, it was 21€)
Afterwards, we drove around and down to
Cap Ferret
(
below
) for some fresh air and also to move the blood around.. It's one of those 'go-to' locations that exerts a strange kind of pull on people. Property here is wince-makingly
expensive
and there were several highly desirable properties as we neared the tip of
Cap Ferret
(
below
)
.
The five or so dark objects along the water's edge in the middle of the photo are the
remnants
of Hitler's much-vaunted Atlantic Wall. Yesterday saw the Cape pleasantly crowded with strollers like us walking off their lunches..
There were some spectacular views across the Arcachon basin in the slanting afternoon sunshine. It was classic Kodak weather.. with warm long-shadowed light that was perfect for picture taking. We enjoyed a bright and crisp afternoon under cloudless blue skies, but it rapidly turned cooler once the sun neared the horizon towards 6pm. On the return we stopped off at the small oyster farming community of
L'Herbe
.. which was almost too photogenic to be true. (video
here
) Access and parking in the height of summer must be a nightmare.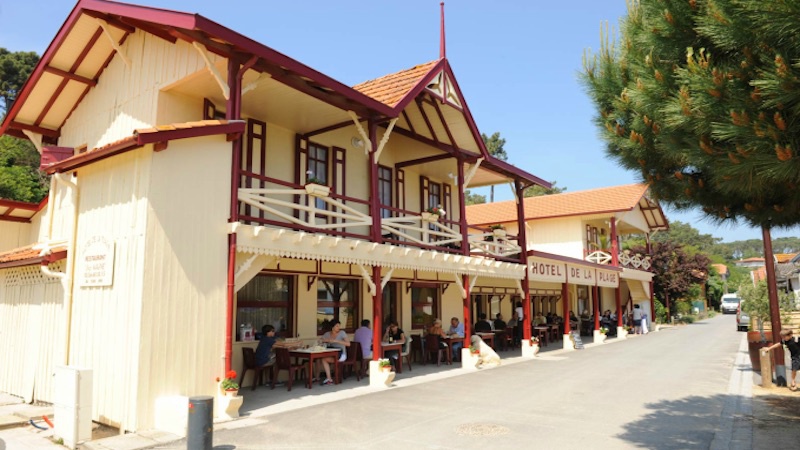 A tightly-knit grouping of wooden cabins - the majority of which were connected with the oyster farming culture - lay in serried ranks above the waterline. At its centre, the ornate "gingerbread" wooden facade
(left)
of
Chez Magne - Hotel de la Plage
- looked intriguing and worth a visit on another day.
I took some photos looking across the basin towards distant Arcachon:
The oyster beds for which the basin is rightly famous for and, if I say so myself, this image is worth clicking on!☺The "
dune de Pyla
" can be seen in the background (
below
). Its claim to fame is that, at 107m, it's the highest sand dune in Europe.
Before I forget, I was at our local fishmongers at ~4pm on Christmas Eve picking up our order. There were a couple of people ahead of me. The lady at the head of the queue was there to pick up her order.. She'd ordered
3
"
bateaux de fruits de mer
" - an assortment of langoustines, crabs, oysters, whelks, mussels and prawns on a bed of ice and presented in 3 polystyrene boats, each about 2 feet long as here (
left
).. I set my ears to max sensitivity to hear what her bill amounted to.. "
260
-odd euros.." ("
Whaaaat??
") The next customer picked up his order - a similar boat but this time full of oysters instead.. ("80-something euros!!") Crisis? What crisis!
When it was my turn, while my order was being wrapped up, I asked the friendly lady who was working like a dervish what time she started work that morning.. She said 2am... In France, the Christmas meal is eaten on Christmas Eve. I asked her what she was planning on doing that evening. She was going to her sister's and eating - yes, you've guessed it - seafood!

On Christmas morning, I walked past the shop and there she was again after another 2am start.. Contrary to what you might read, they don't all work 35 hour weeks in France.

Sunday, 4th January. Yesterday afternoon we went to Biarritz to walk the dog along the sea front of la grande plage (the main beach). It was a sunny 14°C.. (with the sea temperature a decidedly bracing 12°) As always, we were struck by the brightness of the light compared to that of Bayonne (which is all of about 5 miles away as the crow flies). It was approaching high tide and the sea was a foam-flecked hypnotic turmoil of conflicting waves crashing into each other. As we watched with several others, a lone swimmer (with no wet suit!) ran down the beach into the boiling surf and with a few strokes was soon heading out into the towering rollers. Brave man!
Changing the subject: here's a web site that could be a boon to any Anglo expats who aren't as fluent in French as they'd like and who are looking for English-speaking services/businesses. Give
InEnglish
a try...
24th January
. We're experiencing a very liquid winter here.. it's not cold enough for snow - at least, not down here close to sea level. We were up in the hills yesterday in Spain on a shopping raid and the near peaks of the Pyrenees were all snow-covered. But for us, it's rain and lots of it. As we were in Spain, I took the opportunity of topping up with diesel and for the first time in a long time, at 0.999€, it was less than a euro for a litre.
The other bright spot on the horizon is that Ye Olde British Pound Sterling is doing exceptionally well against the euro.. the last time I looked it was trading at £1 = 1.34€. As most of our pensions are paid in pounds, this is very good news for us indeed! Happy days! Just to put things into perspective though, when we came over here in September 2007, a pound was worth 1.47€ just before it plummeted to just shy of parity. The fact that the UK was not in the euro zone meant that we were exposed to fluctuations in the exchange rate and this had been the one risk, the one unknown when we were making the decision whether or not to move to France. I'd anticipated that the pound/euro rate would move around a little but neither of us were prepared for the pound's seemingly unstoppable plunge against the euro shortly after we moved here. They were worrying times but, despite the massive reduction in our income, we decided we'd sit it out.
Saturday, 31st January
. I received an email from the rowing club yesterday to the effect that all rowing on the
Nive
this weekend has been cancelled. This decision has no doubt been made due to the heavy rain of the last few days. It only takes a day or two for the rainwater to run off the steep sided slopes of the Pyrenees and suddenly the water levels rise rapidly and the river fills up with all kinds of detritus such as whole trees that become uprooted and barely visible tree trunks that bob along at speed. Three years ago - in January - I was out in a IV when we hit one of these trees. It was almost completely submerged and yes, the tree won. Story
here
. So having once experienced contact with a tree, I have absolutely no wish to repeat the experience! Here's one rower who's happy to stay at home this morning..
Monday, 9th March
.. The warmer drier weather (at last!) has brought with it the first sighting of returning cranes after their winter break further south. You can see them here taking advantage of a thermal before adopting their usual vee-shaped formation.
Saturday saw me down on the river after many weeks of absence due to the heavy rain that we've been plagued with - which caused the river to be full of semi-submerged debris. The warm weather had brought many of us out and we were able to put out 2 VIIIs and a number of IVs and pairs. I went out in a coxless IV. There was a strong current running and it made the outward leg upstream a real flog. However, once we'd turned around, the boat really took off and we had to take care with all the other boats out on the river. It was hard work yesterday after the lay-off.. that's all I'm saying!